The worlds first Heightmap Terrain Generator for PhotoshopPlugin for Photoshop CC-2014 and newer, PC or Mac Watch the demo videos Update History November 23, 2018 – Free Update v1.5 – added Map Library + 15 free example sets – new layer shortcode "texture" – new Auto-Heightmaps tool – new Random CLouds tool – new icon…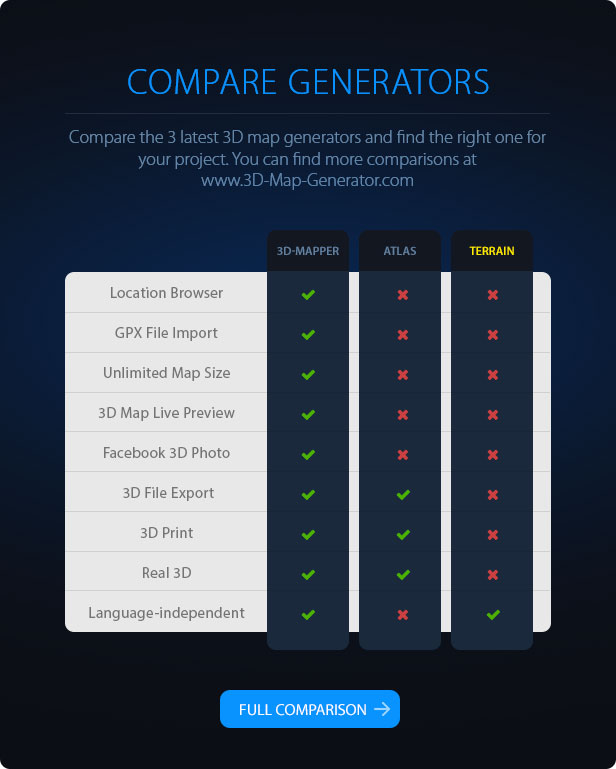 The worlds first Heightmap Terrain Generator for Photoshop
Plugin for Photoshop CC-2014 and newer, PC or Mac
Watch the demo videos
Update History
November 23, 2018 – Free Update v1.5



- added Map Library + 15 free example sets
- new layer shortcode "texture" 
- new Auto-Heightmaps tool
- new Random CLouds tool
- new icon and elements
- bug fixing 

May 14, 2018 – Free Update v1.4



- added Top-View Map tool with 6 presets
- added 7 new seamless legend textures
- updated Contour Lines tool
- updated Water-Level tool
- added new Grid tool
- added a new icon
- bug fixing 

January 26, 2018 – Free Update v1.3



- added Auto-Texturing tool
- added Gravel tool
- added alternative Heightmap Browser
- added plugin tools refresh function
- bug fixing 

October 19, 2017 – Update v1.2.3

- CC-2018 Installer Update

September 28, 2017 – Free Update v1.2



- add the new Tangram Real World Heightmap Browser
- bug fixing 

September 12, 2017 – Free Update v1.1



- add new function to get a 3D map from an individual shape
- add new map edge color picker tool 
- add new guides tool
- add new heightmap brush
- add new texture
- add 12 new icons

From a grayscale heightmap to 3D terrain – all you need is Photoshop

With the 3D Map Generator – Terrain you can easily create a grayscale heightmap and then generate a 3D terrain out of it.
The extensive features of our plugin are real time savers for creatives who want to create professional and high-quality maps in no time. And the best thing is: you don't need to be a Photoshop pro!
Features Overview
3D map from every grayscale heightmap possible
Extensive tool to generate and edit your own heightmap
Heightmap browser
Auto-heightmaps function
Map Library + free example set
Random Clouds function
Top-View Map function
21 heightmap brushes
Map elevation setting
3D map froim an individual shape
3 different isometric map orientations (left, frontal, right)
Auto-Texturing tool
16 gradient presets
22 seamless textures
7 Map Legend Textures
Different texturing brushes
21 background presets
Map edge color picker tool
Guides tool
Contour lines tool
Water level function
Add and delete map depth (unlimted)
Global Shadow function
4 effect brushes for designing the map surface
Gravel Tool
100+ map icons and elements
Icons library functions > add your own icons
Plugin for Photoshop CC-2014 and newer
20+ Video Tutorials
Draw or modify a heightmap with the heightmap tools. Get real world heightmaps from real locations.
Specify the map elevation and orientation and generate an isometric 3D map.
Style the map surface with editable gradient presets, seamless textures, Contour Lines tool, Water Level tool and EFX brushes.
Change the map height, style the background, determine the Map lighting, place high quality isometric map icons from the icons library.
Load your own icons into the library.
Create professional 3D terrains with just a couple of clicks. All with one tool and a few clicks in Photoshop!
What our customers are saying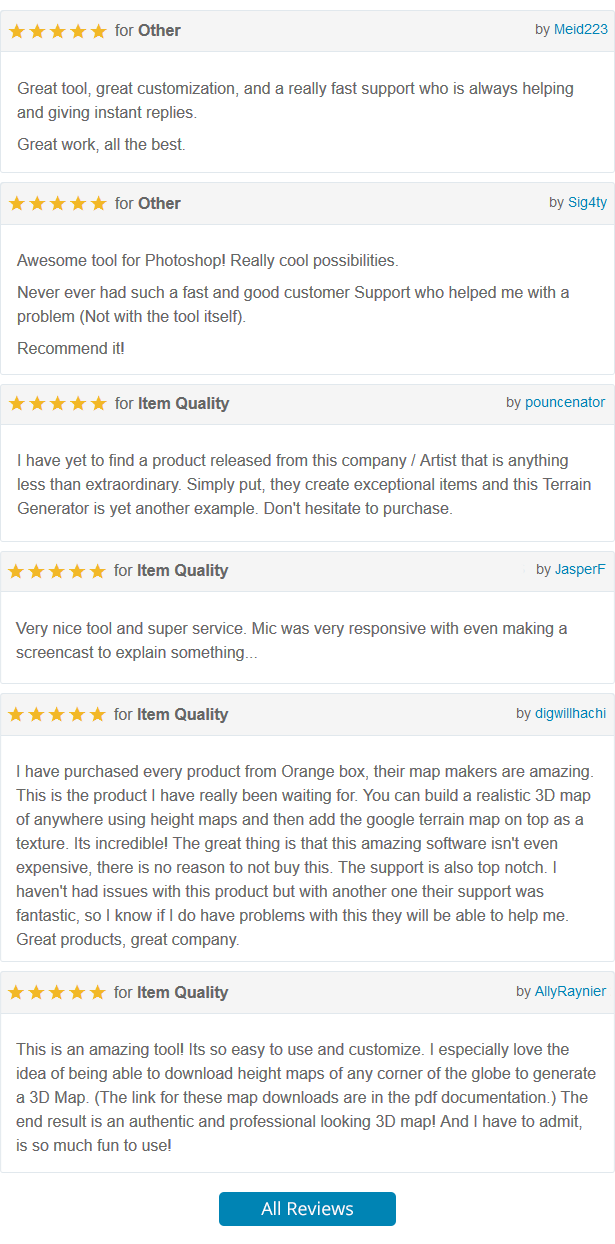 Example applications
Info graphics
Presentations
Map reproduktion
visitor maps
Complex geographical llustrations
Cross-sections maps
Geographical maps
3D color height maps
Topographic Maps
Create Canyons, hills, valleys, mountains, desserts, lakes, river, oceans, islands, crater, volcanoes and make your map project more professional.
Important pre-sale notes:
The 3D Map Generator – Terrain needs at least Photoshop CC-2014 or newer. It cannot be installed with any previous version.
If you are using a Mac with Apple Silicon M1 and Photoshop from CC 2021 v22.3 and higher, please read: https://helpx.adobe.com/photoshop/kb/photoshop-for-apple-silicon.html
The 3D Map Generator – Terrain is language independent and can be installed with every language version of Photoshop. The interface is always in English as shown.
Creating a 3D map with the 3D Map Generator – Terrain can take 15 min or more, depending on the map size and the performance of your computer. Follow the advices in the help file to optimize the process.
The 3D Map Generator – Terrain can be used on both PC and Mac. Please mind the minimum requirements for performance.
Generally every map size is possible. But the processing time (rendering time) and the map size depends on the performance and the hard-disk space of your computer. All provided textures and brushes are optimized on a basic shape or grayscale heightmap size of 1000×1000 up to 1500×1500 px.
Grayscale Heightmap services: All suggested heightmap services are not part of the 3D Map Generator – Terrain. They are just options for getting a grayscale heightmap. There is no guarantee of availability or functionality. The available heighmaps for most areas have a maximum zoom factor of 14z-15z. This is approximately equal to a height of 5,000m – 7,000m.
You can NOT export the maps to any other 3D apps (like 3D Max, Cinema 4D or Blender. You can NOT 3D-print the maps.
System requirements
Mac OS
Multicore Intel processor with 64-bit support
Mac OS X v10.9 (64-bit) or v10.10 (64-bit)
2 GB of RAM (8 GB recommended)
min. Photoshop CC-2014 or newer (CC-2018 recommended)
If you are using a Mac with Apple Silicon M1 and Photoshop from CC 2021 v22.3 and higher, please read: https://helpx.adobe.com/photoshop/kb/photoshop-for-apple-silicon.html
Windows
Intel® Core 2 or AMD Athlon® 64 processor; 2 GHz or faster processor
Microsoft Windows 7 with Service Pack 1 or Windows 8.1
2 GB of RAM (8 GB recommended)
min. Photoshop CC-2014 or newer (CC-2018 recommended)
Tested on MAC and PC
Photoshop CC-2015.5,
Photoshop CC-2017,
Photoshop CC-2018,
Photoshop CC-2019,
Photoshop CC-2020

Item Support




If you are reporting an issue:
give us as much information as possible (Photoshop version number, used Photoshop language, OS version)
tell us what exactly you have done
screenshots are helpful
videos are very helpful (try this free app)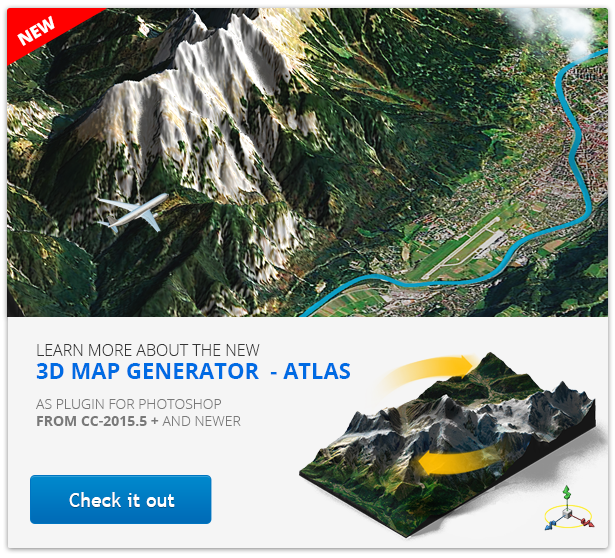 Fitting isometric map icons