COLLECTIONS HOW TO PLAY 1. Open a game 2. Start new game 3. Play long as you can 4. Tap anywhere to jump. Try avoid bads APK SOURCE ABOUT PROJECT This is good Construct 3 template. Easy to use and reskin. Smooth in HTML5, mobile, any! Infinity game where you can die in any time.…
COLLECTIONS
HOW TO PLAY
1. Open a game
2. Start new game
3. Play long as you can
4. Tap anywhere to jump. Try avoid bads
APK SOURCE

ABOUT PROJECT
This is good Construct 3 template. Easy to use and reskin. Smooth in HTML5, mobile, any!
Infinity game where you can die in any time. Random generated. Now in a game 18 different blocks. You can add even 1000, as you want.
One of features is a shop where you can buy some skins for anong us (impostors). Collect coins for this.
In the game you can see sharings for twitter and facebook. You can add "More Games" too.
In anomng us game template you can see some line with best score. Player can up rank and be child, noob, player…GOD etc.
And be careful, impostor can easy die…
You can easy download Construct 3 game (c3p) after the purchase.
FlikesGames have more Construct 3 tempates and instant games.
Help for reskin game, bugfixing, new game creation:
[[email protected]] ☺
| | |
| --- | --- |
| Platforms | [ The game works on all popular browsers ] |
| Changes | [ Very easy customization, reskin ] |
| What included | [ Constuct 3(.c3p), images, sounds, logos ] |
| Using | [ Easy to use ] |
| Graphics | [ Nice, handmade, flat ] |
| IFrame | [ You can embed the game on the frames HTML5 ] |
| Buttons | [ The ability to change the location of the on-screen buttons and their size ] |
| Game width | [ 1280×720] |
| Social sharings | [ NO ] |
| Control | [ Touch, mouse, mobile ] |
| Links | [ You can replace all links ] |
| AdSense template | [ No ] |
| AdMob template | [ Possible ] |
| Can be exported to mobile | [ Yes! In few clicks | tutorial is ] |
| Free Construct 3 version | [ No ] |
| Support | [ Yes ] |
| | |
| --- | --- |
| Images | [ yes ✔] |
| Construct 3 (c3p) | [ Yes ✔] |
| HTML5 exported | [ Yes ✔] |
| Documentation | [ Yes ✔] |
| Export to Android video | [ Yes ✔] |
| Logo | [ 16-550px ] |
| Plug-ins documentation | [ Yes ✔] |
BEST GAMES:
OTHER GAMES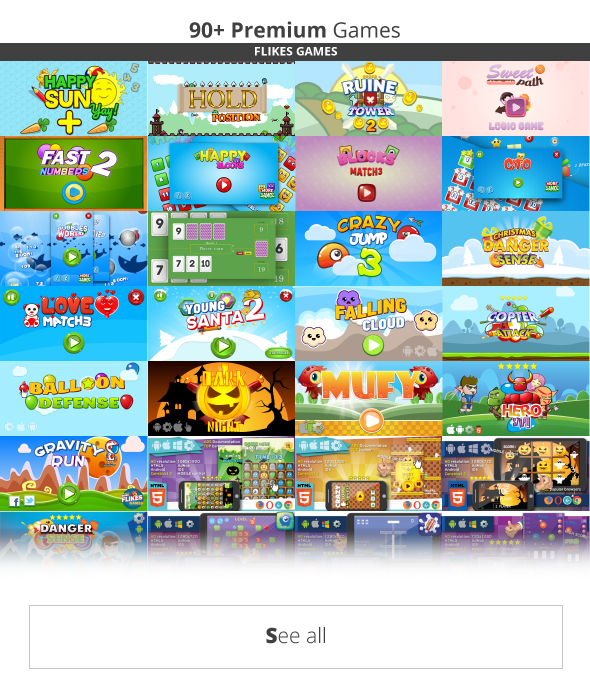 Logos: