SB Testimonial Slider Plugin Description: SB Testimonial Slider is a flexible WordPress Plugin that has a lot of settings and features. It is designed to take care of modern design and customer needs. There are settings panels in WP admin to various templates and other customizations. Administrators can change the complete layout of the slider…
Author: startbitsolutionsPrice: $20
<center>
SB Testimonial Slider Plugin
</center>

Description:
SB Testimonial Slider is a flexible WordPress Plugin that has a lot of settings and features. It is designed to take care of modern design and customer needs. There are settings panels in WP admin to various templates and other customizations. Administrators can change the complete layout of the slider by simply selecting the style from settings panels. It is a fully responsive slider.
<center>
Have a look on our ready made Testimonial Slider Templates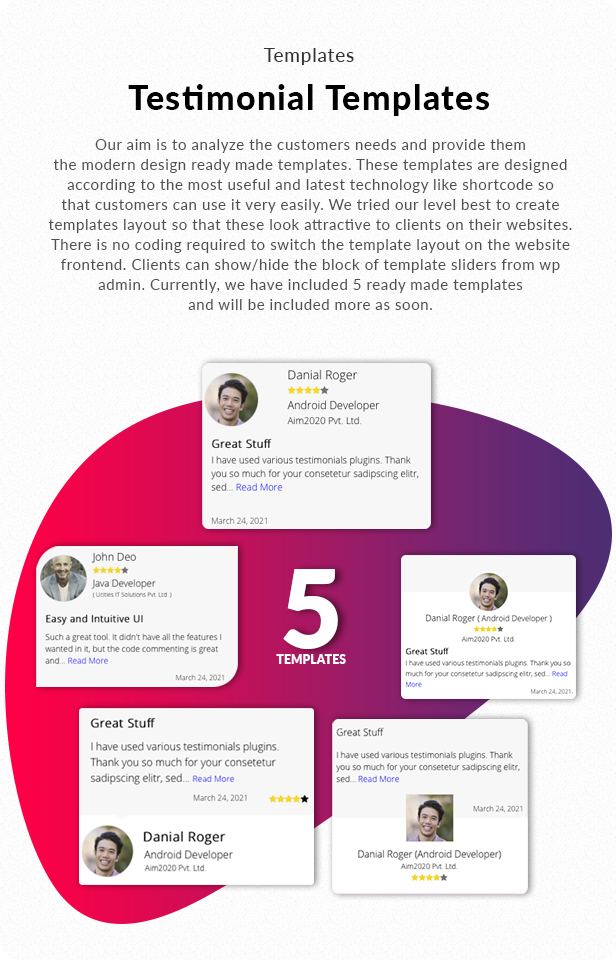 </center>
Admin Features:
SB Testimonial Slider plugin is a user friendly plugin which has options for setting unlimited colors for title, description, author, date and star rating. It is a shortcode ready plugin which displays a testimonial slider by using the [testimonial-slider] shortcode on any page so using this slider plugin is very easy.
It has the features to show/hide to each block of testimonial sliders except title, description and image. It also has the features to order the testimonials and limit the number of testimonials to display on the front-end. There is an option for selecting the template style from the drop down box. There is also an option to limit the number of slides into slider.
Manage testimonial info in the admin side. Administrator can Add/Edit/Delete the testimonials slides from WP admin.
Why choose SB Testimonials Slider For WordPress?
SB Testimonial Slider plugin have the following features so that it can be used widely
Multiple style layout:

Currently, we have included five design templates (style1, style2, style3, … etc.) in the testimonial slider plugin and others will come soon.

Star Rating system:

The plugin has the Star Rating system/feature and also option into WP admin to enable/disable star rating. Clients can set the various colors for star rating.

Show/hide:

There is a settings panel in WP admin to show/hide every field of testimonials except testimonial title and content.

Color options:

Clients can set unlimited colors for title, content, author name, slider background and star rating from WP admin.

Shortcode ready:

There is no coding required to display the testimonials on slider. There is a shortcode displaying on the slider settings pages into WP admin to display slider on any page content.

Responsive design layout:

One of the other most useful features is the responsive design of testimonial slides. All testimonial slides will display according to the device size. For example if a device is mobile then only one slide display at a time and if device is ipad then two slides display at a time and if device is desktop then 3 slides display. You can set the number of slides from the admin settings panel.

Slider Settings:

There is a settings panel into WP admin to set slider settings (Autoplay on/off, speed control, pause on hover etc.) If you want to auto play the slider then check the checkbox in front of Enable Slider Autoplay.

Testimonial input fields:

There are the below input fields into admin for testimonial slider info

a) Title/Tag

b) Author Name

c) Image

d) Date

e) Testimonial content

f) Company

g) Star rating

h) Author identity/ position

Limit Total Slides:

There are settings panel to set the total number of slides and columns in a slider.

Order:

There are a settings to set the testimonials order & order by

Single template for more info:

There is an option in the settings panel to enable the read more link. If it is enabled the Read More link display on the testimonial slider. If any visitor clicks on the read more link then it goes to the more info page where visitors see all the info about the author.

Smart columns distribution:

Our plugin is designed according to device width. If you set the 3 columns from the admin settings panel then 3 testimonials will display on desktop and ipad pro. If the device is an iPad then 2 columns will display automatically. If device is mobile then 1 column display.

Compatible with minimum requirement of WordPress:

SB Testimonial Slider plugin tested with WordPress version 5.0 and above. It is also compatible with Divi themes, Avada theme and others.

WordPress Editor and Divi builder support:

Our plugin is shortcode ready and shortcode can be use into WordPress Editor or Divi builder.

Live demo:

We have a live demo for our plugin which displays the testimonials into a slider. Please have a look on it Click Here.

And many more…